Safety is paramount. For this reason, exercising its responsability, ANAV strikes to minimise risks in all aspects of the operation.
The objective is to guarantee the integrity of the facilities and the processes that take place, as well as that of the workers, whose training is largely focused on aspects related to safety.
In fact, Safety is a central and fundamental concept in ANAV's industrial culture, and it encompasses all activities, from the design of the plant to the deployment of its relationships with the surrounding area.
For ANAV, Safety is a Whole that encompasses all the work needed to guarantee the nuclear safety of the facilities, the radiological safety of the people, the industrial safety, the environmental safety of the area around the plant, the security of the facilities and cybersecurity.
"We all want to feel safe in our home"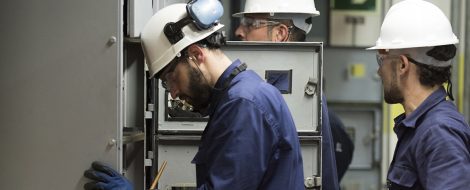 Due to the fact that in some areas of the facilities radiation is generated, nuclear power plants are designed under the defence-in-depth concept. The integrity of people and the environment is the top priority and, for this reason, a series of protection barriers and detailed control systems are established. These are taken into account both during the design and construction of the plants and during their operation. This is what is known as defence in depth.
On the basis of a reliable design and technology, Ascó and Vandellós II plants have developed a comprehensive industrial safety, control, supervision and personnel training programme on risks that is the result of many years of improvements, which contributes to the quality of the operation.